When I saw these LDS
temple bracelets
at
Sisters' Stuff
, I LOVED them and decided I needed to make some of my own!
I bought white & clear beads, plus clear stretchy string and an alligator clip... And in a few short minutes I had these...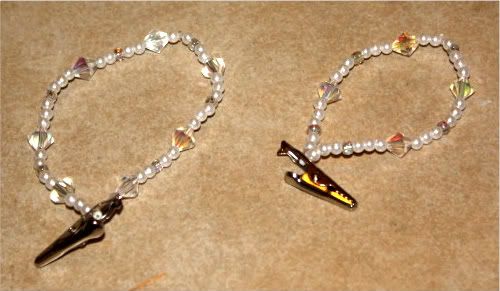 1. Lay out the beads how you want them...
2. String the beads on the stretchy string. When I came to the alligator clip I put it through the hole, but a tiny white pony bead on and then back through the hole so the clip won't twist sideways...
3. One all the beads are strung, tie tightly with a square knot.
4. Before clipping the ends, coat the knot with clear nailpolish. This will strengthen the knot.
5. Once the nailpolish is dry, clip the ends!
And there you have it! Now get to the temple to try it out! I can't wait to use it!