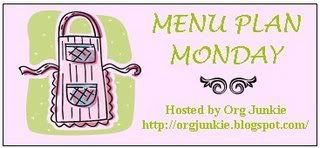 Monday: BBQ French Dip Sandwiches/Baked Potatoes/Jello

Tuesday: Honey Mustard Chicken/Rice-a-Roni/Mixed Veggies

Wednesday: Manicotti/Salad/Bread

Thursday: Shepherd's Pie/Rolls

Friday: Take-n-Bake Pumpkin Pizza

Saturday: Taco Soup

Sunday: Leftovers

Treats: Banana Bread (see recipe), Zucchini Crisp (tastes JUST like Apple Crisp!)

Banana Bread
Grease and flour bread pans.
Preheat oven to 350 degrees.
Mix:
1/4 cup butter
1 cup sugar
3 eggs
1 tsp vanilla
1 tsp baking powder
1 tsp baking soda
2/3 tsp salt
1 cup sour cream
1 cup mashed bananas
2 cups flour
1/2 cup nuts

Bake for 40 minutes.