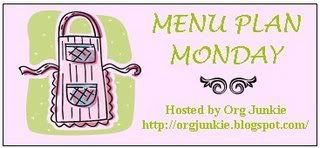 I didn't do so great this week sticking to my menu... It was a busy, busy week... although this week should be better since all the holiday parties are done with and I have most of my shopping done! I'm hoping for more time to BLOG!
The only thing we ended up cooking from the menu was the Clam Chowder and it was excellent!
I will try to add the recipes as I cook them this week - I didn't do very good at that last week because I didn't cook! lol
Monday: Sweet & Sour Meatballs/Rice
Tuesday: Chicken Enchilada Casserole/Salad

Wednesday: Chicken Teriyaki Burgers/French Fries

Thursday: Swiss Bliss Chicken/Rice-a-roni/Green Beans

Friday: Out of Town

Saturday: Homemade Pizza - and I might make Alfredo Sauce and do an alfredo chicken pizza - yum!
Sunday: Tacos/Mexi Rice - I use the fresh tortillas from Sam's Club - YUM!