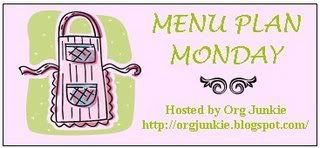 I've been HORRIBLE at my meal planning lately, but we are going to try to do better starting this week!
Monday: Clam Chowder/Rolls
Tuesday: Homemade Pizzas

Wednesday: Dinner Out with hubby - Spaghetti for the kiddos

Thursday: Swiss Bliss Chicken*/Rice-a-roni/Green Beans

Friday: Girl's Night Out for me/ Leftovers for the family!

Saturday: Church Christmas Party Dinner!

Sunday: Chicken Enchilada Casserole/Salad

Treats: Zucchini Crisp (tastes JUST like Apple Crisp!), Cream-cheese Brownies (for the Church Dinner), and Chocolate Chip Cookies*!
Breakfasts: Breakfast Burritos, Waffles, German Pancakes, Blueberry Muffins