I just realized that I am WAY behind on my book reviews! So over the next few days, I'll get caught up!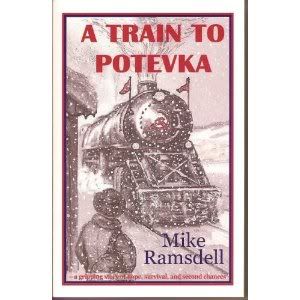 In March, we read
A Train to Potevka by Mike Ramsdell
for book club. I enjoyed this book and it was a very quick read.
Although it is a "novel", it is based on the author's own experiences in Russia and it was amazing to think of him going through what he did and the inner strength he had to survive!
I think my favorite part in the book was when it describes him walking in the snow (and you can imagine how FREEZING it was) and how he collapes from exhaustion. Then he hears the wolves and forces himself to get to safety. AMAZING! Definitely an inspiring story!!!
Books on My List:
(BOLD - Currently Reading;

Purple - I finished it!

)
Books on my bookcase I REALLY want to read:
Fishers of Men - Gerald N. Lund
101 Powerful Promises from Latter-day Prophets - Wayne Brickey
Daughters of God - S. Michael Wilcox
If Life Were Easy, It Wouldn't Be Hard - Sheri Dew
Total Money Makeover - Dave Ramsey
How to Win Friends and Influence People - Dale Carnegie
Saving Kristen - Jack Weyland
Please Pass the Scriptures - John Hilton III
10 Secrets Wise Parents Know - Brent L. Top & Bruce A. Chadwick
The Christmas Sweater - Glenn Beck
Life of Joseph Smith - George Q. Cannon
The Five Thousand Year Leap - W. Cleon Skousen
The Peacegiver - James L. Ferrell
Book Club Books:
A Train to Potevka - Mike Ramsdell
Book of a Thousand Days - Shannon Hale
Fine Old High Priests - Donald S. Smurthwaite
Three Cups of Tea - Gary Mortenson
Warriors Don't Cry - Melba Pattillo Beals
Mayflower - Nathaniel Philbrick
The Host - Stephanie Meyers

I've read this one before and LOVED it but will do a quick review before book club
Other Books I'd Like To Read:
Overcoming Under Earning - Barbara Stanny
The Undaunted - Gerald N. Lund
The Great and The Terrible Series (vol. 1-6) - Chris Stewart
My Sister's Keeper - Jodi Picoult
Sarah's Quilt - Nancy E. Turner
Forest Born - Shannon Hale
The Best of Times: A Dickens Inn Novel - Anita Stansfield
The Silence of Snow - Anita Stansfield
The Last Song - Nicholas Sparks
Dear John - Nicholas Sparks (NEW on list: 3/7/10)
Open: An Autobiography - Andre Agassi (NEW on list: 3/710)